Liz Veyhl
Liz, founder of Baptiste Power Yoga Nashville, stumbled into her first yoga class in 2005. She had no idea how quickly she would be hooked, loving both the challenge of the physical practice and the deeper emotional benefits. Those two components continue to draw her back to the mat.
As a certified Baptiste Power Vinyasa yoga instructor (E-RYT 500), Liz has completed both her 200- and 500-hour trainings under Baron Baptiste and now travels to assist these trainings and programs around the world. She has also studied under Live Love Teach founders Philip Urso, Debbie Williamson, and Stacy Dockins.
Mary Morgan Bryan
Through asana, meditation, and inquiry the journey is never-ending and constantly evolving as both a teacher and a student. I am honored to share the practice of yoga, serving as a conduit for others to discover and experience their own personal journeys.
Since my original 200-hour training, I have remained in inquiry around a question posed by Baron Baptiste in some of the required reading for training;  "The question to ask is not will I survive if I step out of my comfort zone, but will I survive my comfort zone?" During training, I was forced outside of my comfort zone and learned more about myself than I could have ever imagined which led to life-changing experiences for which I am forever grateful.
While each trainees' experience is individual, watching the "magic" that happens as barriers are broken down and participants step into his/her own unique greatness is so inspiring.
Meghan Midgett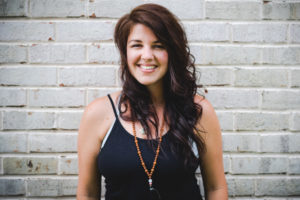 I teach because I want to share the physical, mental, and emotional benefits yoga has given me.  I love the way that the practice consistently  mirrors life; I am often faced with difficult or uncomfortable situations and have the choice to automatically react out of habit or to pause, take a breath, and thoughtfully respond.
My favorite moments of facilitating teacher training are when I see a student step out of his or her comfort zone to try on a cue, share a story, express a deep-rooted emotion, or just to be silly. This practice of vulnerability brings them so much closer as a community and teaches them that we don't have to get everything right or be perfect in order to be whole and complete.
Dan Baker
What I love most about facilitating trainings is seeing the empowering transformations in my students.  I know, and live, how much it has, and continues to transform my life so I get very lit up when leading others through this training.  This training is literally life-changing.  I truly love seeing others find their unreserved self-expressions.
My biggest takeaway from my 200/300 hour trainings is that I can choose a new way of being; one that positively impacts my life and by effect positively impacts those around me.  I had no idea when beginning my yoga teacher training that we would be doing so much self inquiry work.  I had an idea that it was going to be a strong physical training based off of classes I took beforehand but the mental and emotional excavations had the biggest impact on my life.
Brooke Widmer
Brooke complete her 200-hour training with EmPower School of Yoga in 2016, and that training sparked a passion to share the power of transformation with others on their path to becoming a teacher. Brooke completed her 300-hour training in 2019 with Baptiste Power Yoga Nashville and now holds a 500-hour RYT. Currently, Brooke is on the BPYN leadership team ad co-facilitates 200-hour YTT certification in Nashville and elsewhere.
When Brooke isn't instructing power vinyasa flow classes in the studio or leading other teachers, she is sharing the love of yoga with kids in various schools in the city through Small World Yoga. Having two daughters of her own, Brooke is reminded daily of the pressures teens and preteens face related to stress, body image, and social norms, and how their reactions can shape the rest of their lives. While Brooke didn't open up to yoga until her 40's, she remains committed to sharing the practice of yoga and meditation now, to all ages, as access to feeling strong, capable, and grounded in the present moment where anything is possible.
Natalie Thomas
300 hour was a defining moment in my life. The confidence that came after in my teaching was evident in my classes as well as my own life and my own practice. It made me dig deep into what was stopping me from getting to my own greatness. Biggest takeaway..trust myself and stop worrying about how it looks or the little things. Being messy is how you get to be better and reach others.
I get inspiration from the students I teach. I get inspired when I take classes from other instructors. I wanted to teach yoga so that I could inspire students too and give them the same feeling I got when I went to an awesome yoga class. The answer is….inspiration in every form. I can remember the classes that changed me and I want to bring that empowering feeling to my students and bring them inspiration too.