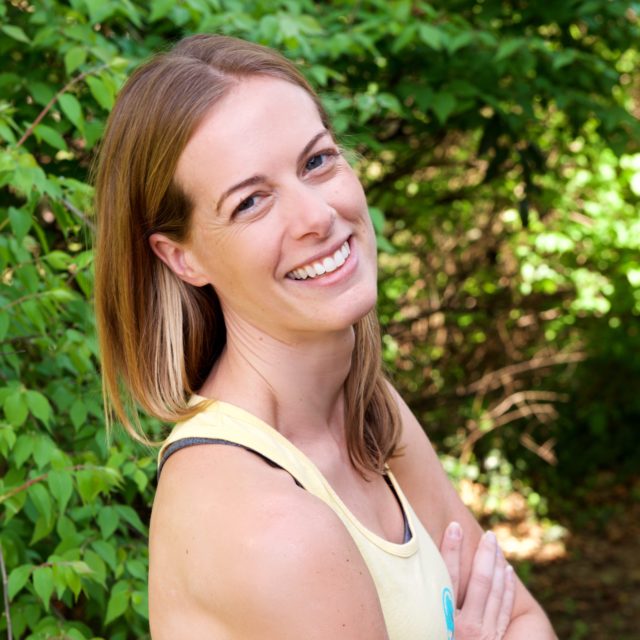 Liz Veyhl
Founder & Executive Director
A native Nashvillian, Liz is passionate about both the local and global yoga communities.
In 2013 she was moved by the idea that "yoga can happen anywhere" while in Kenya with the Africa Yoga Project. Upon her return she believed that the Nashville community deserved the same access to yoga and its benefits that she saw under the hot Kenyan sun.
A do-er by nature, Liz founded Small World Yoga in 2014 with the vision to grow yoga in outreach locations across Middle Tennessee. A year later she co-founded Baptiste Power Yoga Nashville, which is now the official teacher training school of Small World Yoga, and has made a sustainable model of bringing yoga to the community by training more than 100 new teachers in the Nashville area and beyond. Two major events- Music City Yoga Festival and Nashville's International Day of Yoga- bring together the local yoga community thanks to Liz's leadership and organizational skills.
Liz is a certified Baptiste Power Vinyasa yoga instructor (E-RYT 500). She has completed both her 200- and 500-hour trainings under Baron Baptiste and now travels to assist Baptiste trainings and programs around the world.
She has also studied under Live Love Teach founders Philip Urso, Debbie Williamson and Stacy Dockins. She trains and certifies teachers in paddleboard yoga through her business, Nashville Paddle Co.
Liz was a high school and college athlete and didn't expect yoga was going to be the sport for her, but more than a decade later she still loves both the challenge of the physical practice and the deeper emotional benefits. In 2017, she returned in Kenya and is now a sponsor of Africa Yoga Project. She funds a new teachers' career in Africa and she also helps host/sponsor teachers from Africa to come to America and teach.
When not on the mat or in the SWY studio you can find Liz on a paddleboard, in the cookie kitchen with her husband, or looking for the best Mexican food in town.
Natalie Aulvin Thomas
Outreach Manager
With her bright personality and ability to make every person she comes in contact with feel special, it is easy to see that Natalie is right at home in the yoga community. She fell in love with yoga while attending college at Middle Tennessee State University and began practicing Ashtanga and Bikram methods. Natalie received her teaching certification in the Baptiste Power Vinyasa method in 2015 through Baptiste Power Yoga Nashville.
Natalie appreciates teaching yoga because of its potential to provide peace and whole-body well-being to students by using breath and movement. She has a special place in her heart for teaching yoga to those who do not usually have access to such activities, such as homeless teens and those recovering from addiction.
Natalie manages the organization's relationships with community partners, as well as the SWY teacher team and is on our teaching staff. After starting in 2015, Natalie continued to serve this organization in every way possible. She even turned her car into a temporary yoga mat storage facility before opening the SWY Community Studio! When asked why she works with SWY, Natalie explained her motivation is the everyday interactions with students.
Chelsea Gartner
Studio Manager
Chelsea's yoga journey started back as a college graduate with a Groupon. Chelsea had one month of unlimited yoga, but it only took one hour of a sweaty, power yoga class and she was hooked. In the powerful rhythm of breath to movement, Chelsea discovered that yoga offered so much more than a physical practice. She continued to come back to my mat for that daily dose of mind and body rejuvenation. After one year of practicing yoga regularly, Chelsea was inspired to deepen my practice and to share the magic of yoga with others; she completed her first 200-hour power yoga teacher training in 2012.
After several years of studio leadership in Chicago, Chelsea moved to Nashville in 2017 with the intention of building a greater yoga community. Chelsea seeks to share the wisdom and tools that she learned through her own personal development and transformation journey, to empower others to unlock their power within.
When not on her mat or in the SWY studio, you can find Chelsea hiking the trails of Percy Warner or working on her next DIY home project she found on Pinterest.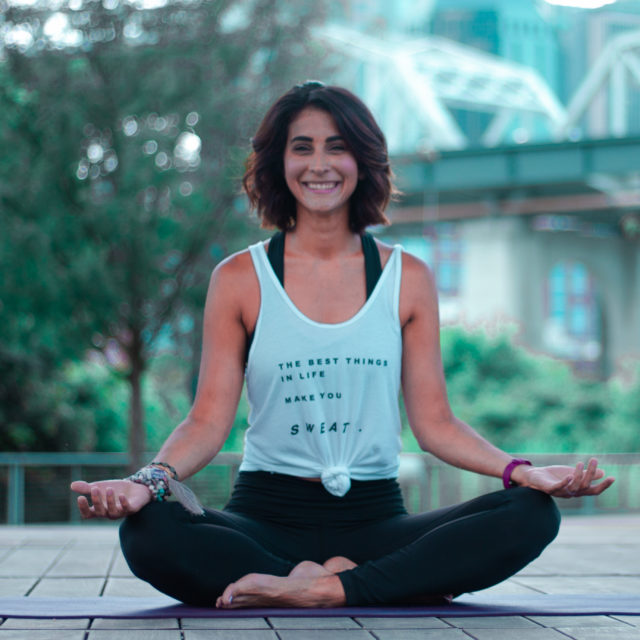 Leah Friend
School Partnerships Coordinator
Leah began her yoga journey in 2010. Prior to that, she was a gymnast for 13 years with various injuries along the way. As a result, she sought the stretching and sustainability yoga offered. She especially loves vinyasa power flows for the hard, but rewarding work, that comes from that practice.
In March of 2017, she found herself at a class for Small World Yoga. She was instantly attracted to the community and connection in the room. Shortly after she became a volunteer for the organization. From there she learned about Baptiste Power Yoga Nashville and graduated from BPYN in March 2018.
Her passion to share her love and knowledge of yoga with others is what led her to work with Small World Yoga as a teacher. She works with adults and athletes, and she has a call to work with the youth in our community to create a more empowered tomorrow. Through her role as the School Partnerships Coordinator, she is able to help create yoga programs for students in schools across Metro Nashville.
Jessie Genet
Development Coordinator
Jessie started practicing hot yoga in 2012 to stay in shape as she aged out of sports. She was immediately drawn to the practice. Over the next few years, she discovered how much more yoga had to offer besides a good workout. It made her feel challenged, centered, focused, and strong. She signed up for teacher training in 2018 with hopes to inspire others the way her teachers had inspired her. She aims to lead a well balanced class and leave her students feeling challenged, centered, focused, and strong.
Jessie teaches in outreach at University School of Nashville upper school.
Sarah Ellis
Social Media Manager
Sarah began practicing yoga at the fitness center in college after a background of dance and cheerleading, thinking she would be "good" at it. She learned very quickly that there is no "good at yoga." And that's what made Sarah fall in love with the practice—she was no longer performing for others but instead focusing on her own wellbeing.
Originally from North Carolina, Sarah moved to Nashville in 2017 and found her new home with the Small World Yoga community. She received her 200-hour teacher training certification through Baptiste Power Yoga Nashville in 2018. Over the years, Sarah has taught a wide variety of students, from kindergartners to 90-year-old seniors, and in a variety of styles, including power, gentle, chair, and kids' yoga, supporting Small World's mission that yoga is for every body. She received her 500-hour certification in 2020 with Baptiste Power Yoga Nashville.
Outside of yoga, Sarah writes young adult novels and plays too many video games.
Sarah teaches at the studio as well as in the community at University School of Nashville lower school and Edmondson Pike Branch Library.