International Day of Yoga
Every year, Small World Yoga hosts a donation-based evening of yoga to celebrate International Day of Yoga on June 21. Hundreds of yogis gather for a fun outdoor yoga flow, live music, a marketplace of vendors, merch, food and drink, and more. This event is free to the public, family friendly, and suitable for all levels.
IDY 2022
International Day of Yoga 2022 will be held in person at beautiful Cumberland Park in downtown Nashville on Tuesday, June 21 from 5:30 to 8:00 pm. An all-levels yoga flow will be from 6:00 to 7:00 pm. IDY 2022 will feature live music from Tennessee Dead.
If you're interested in sponsoring the event, please email giving@smallworldyoga.org for more information.
---
Meet our IDY 2022 instructors!
Dan Baker
Dan started this incredible journey called yoga after retiring from the Army with 21 years. It began in 2008 watching the P90X DVDs and that transitioned to a once a week class in 2010 when he became a Department of the Army Civilian. After seeing how he was not happy with what he was doing, Dan's wife asked him, "What makes you happy, Dan?" He told her he liked yoga, so he found the emPower School of Yoga in Nashville, TN, where he got his RYT-200 in March 2017. He has since gotten his RYT-500 from Baptiste Power Yoga Nashville and graduated from Level One Baptiste Power Yoga, and completed the Baptiste Power Yoga Teacher's Course, Unstoppable and Unbreakable both from the Baptiste Institute.
Dan now helps certify others to be yoga teachers. His style of teaching is one of fun and challenge. He loves keeping things light as he inject his dad joke sense of humor in his teaching. Dan loves giving lots of options during his flows as he encourages his students to push their edges. These options usually involve some sort of arm balance or inversion, but not always. Dan sees yoga as a tool for life. The lessons we learn on our mat can be applied off our mat.
Nielah Burnett
Nielah Burnett is the owner and founder of InnerG Juice & Yoga, Nashville's first combined cold pressed juice bar and yoga studio, located on 9th and Buchanan. She opened the doors to InnerG in 2020 as an invitation for underserved communities to access yoga and juicing from a welcoming, inclusive environment that is centered around accessible wellness habits. Nielah holds a 300-hour yoga teacher certificate from Baptiste Power Yoga Nashville, and her 200-hour certificate from the Kemetic Science Institute.
Based on her personal experience, Nielah believes yoga is a transformational practice for every-body, that transcends backgrounds, demographics, body types, and inflexibilities. She cares about sharing the power of movement, and the refreshment of cold pressed juice, so that everyone can have access to sustainable wellbeing. Nielah teaches 6 am sunrise power flow on Mondays and Fridays, alongside a phenomenal roster of Nashville yoga teachers, who hold classes at InnerG Juice & Yoga nearly every day of the week.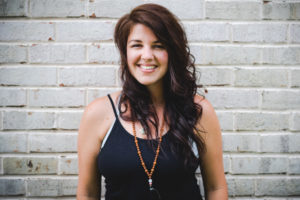 Meghan Midgett
"Soften your shoulders, and relax your jaw" are two phrases you will definitely hear Meghan say in class. They're also things she says to herself at least a few times a day. The sense of awareness that yoga revealed is what kept bringing Meghan back to the practice, and now she's been on her mat for almost a decade.
Meghan is a 500-hour certified yoga teacher and graduated from Baptiste Power Yoga Nashville's 200- and 300-hour programs in 2018 and 2019, respectively. She co-facilitates the 200-hour teacher training program as well as supports in planning many of Small World Yoga's large events. You can expect to sweat, breathe, and maybe even laugh in her power flow class on Tuesdays at 9 am and Thursdays at noon.
If she isn't at yoga or on her way, you can probably find Meghan enjoying a luxurious meal on a patio with her husband. Just kidding. They're both at home getting a snack for their daughter. Or the cat.
Mikka Parrish
Mikka is a 200-hour Baptiste trained yoga teacher. She got certified with Baptiste Power Yoga Nashville in 2020. She has practiced yoga for three years and became interested in being a teacher in 2019 after attending several outreach classes from Small World Yoga at Edmondson Pike Branch Library and yoga in the park at Mill Ridge Park and the Richland Park Farmers Market. Yoga truly changed her life and her mindset.

She loves Small World Yoga so much for bringing accessible yoga to communities all over Nashville and she's proud to be a part of this community and that she's able to spread her love to this world through teaching. Mikka is Nashville born and raised. She is a mom of three girls, who also attend yoga in the park frequently. Mikka currently teaches outreach for KIPP Elementary and Hillwood High School virtually.

---
Meet our musical performers!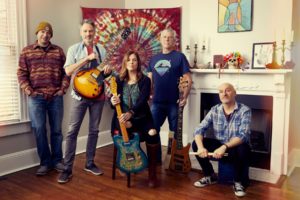 Tennessee Dead
The Bus Came By and We Got On. IT STOPPED A FEW DECADES AGO FOR SOME OF US AND A LITTLE MORE RECENTLY FOR OTHERS. We're musical storytellers who love the Grateful Dead. The vibe. The community. The groove. That feeling you get when you're listening to Jerry. It's irresistible.
---
Thank you to our IDY 2022 sponsors:
Thank you to our IDY 2022 vendors:
Ahimsa Haircare ~ Dani D Fitness ~ Elemental Chiropractic ~ Gold's Gym ~ Grain and Berry ~ Heart of Wisdom Yoga NashBowls Acai ~ Nashville Predators ~ NoloSol Hot Yoga ~ Shakti Power Yoga ~ Walker Brothers Kombucha ~ Yoga Muttz Movement Lounge ~ Yoga Shala Nashville ~ Yoga Six Green Hills